Welcome to Restaurant Nicks
In 1960, Opened a steak house that attracted American
in Sayama where Johnson US Air Force Base was .
Hand made traditional handmade The deep taste of demiglas sauce has also been
passed down to hamburgers and Johnson Burger and is loved by many customers.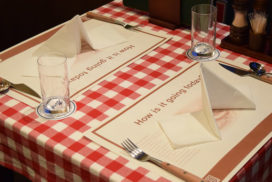 Reservation
After choosing the date and time of your reservation request, number of people visiting, Please click "Find a Table".
Kuroge Japanese Beef 100% Premium Hamburg Steak with cheese

Price

150g 1,760yen

Price

200g 2,200yen

Hanburg Steak with cheese.

Price

150g 1,320yen

Price

200g 1,595yen
CASTILLO DE ALBAY TINTO

Medium body / scent of Italian strawberry is impressive. Smooth and pleasant acidity and fruity taste.

KWV CATHEDRAL / CELLAR CABERNET · SAUVIGNON

Full body / South Africa Cabernet · Sauvignon 100%. Characterized by the barrel aging flavor and condensed fruit taste.

KWV CATHEDRAL · CELLAR SHIRAZ

Full Body / South Africa Shiraz 100%. Cassis, scent of cinnamon and smooth taste of mouth.

DE ROACH PINOT NOIR

Medium Body / American Toast like aroma, with a nuance of black pepper for lingering.

DIAMANT DESPERATE

Full Body / Argentina Rich wine that blended a smooth Schiller into powerful Malbec.

LICOSA BARBARESCO

Full body / elegant and elegant cassis aroma like Italian violet. You can enjoy a long lingering finish.

CHÂTEAU DE LA RIVIERE

Full Body / France Deep ruby ​​color with cassis, black pepper, wine full of scent of toast.

DE LAUCHI O · F · S RUSSIAN · RIVER · VALLEY PINO · NOIR

Full body / American plums and spices and fragrance of cinnamon and mocha. Silky texture